FLOE International began in 1983 when founder Wayne Floe, at the age of 19, designed his first boat lift. This boat lift was unlike any other on the market. It had a roller bunk bed on a twin winch vertical lift. This lift allowed you to literally drive the boat up and out of the water. Once out of the boat all you had to do was crank the rear winch up and out of the water. This first lift was used for over a decade and is still functional and now on display at FLOE headquarters!
Throughout the journey and going forward, FLOE always has and will stay true to delivering only innovative products that deliver value to customers that just isn't available on the others. Aqua Bay  Pools is proud to carry FLOE boat docks and lifts. Want the best? Go with the FLOE!
We offer:
The best selection
The best quality
The best warranties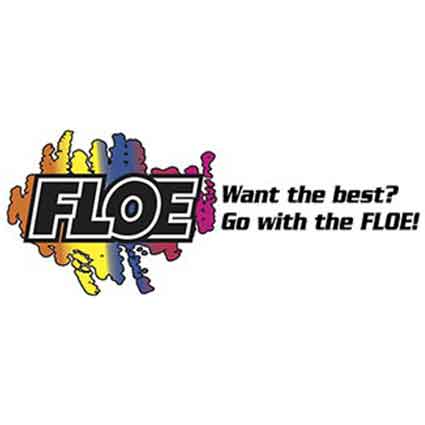 ---
FLOE Pivot Boat Lifts
A trouble-free, economical solution for small boats. FLOE pivot lifts can accommodate boats of up to 1600 lbs. Quality built for many years of enjoyment, all FLOE pivot boat lifts are made of custom engineered extruded aluminum with stainless steel and aluminum fasteners and stainless steel leveling cables.
---
FLOE Sectional Docks
FLOE sectional docks are the easiest dock you will ever own! Built with a sturdy, lightweight design, FLOE sectional docks are easy to assemble and breakdown with NO tools needed!
Using their exclusive Quick-Connects, FLOE sectional docks allow you to quickly and easily link dock sections together. Quick-Connects can also be installed anywhere on the dock section, allowing you to completely customize the layout of your dock!
Easy-Level Support Legs
The real secret behind FLOE sectional docks are the Easy-Level Support Legs. Easy-Level legs use a topside screw jack system to allow you to quickly level your dock using only a cordless drill! When it comes time to put your dock away for the winter the brace support and leg remove in seconds, with no tools required!
With four different sizes available, FLOE's Easy-Level legs can accommodate water depths of up to 64″!
FLOE Floating Docks
FLOE's rigid, heavy duty extruded aluminum frame is the backbone to the floating dock system. It provides a solid, stable base for the walking surface and is supported by foam filled, rotationally molded floats.
This completely modular system with FLOE's patented frame incorporates a track on all sides enabling you to create a custom floating dock for your residential waterfront property or a full blown multi-slip commercial marina.
Rugged, long-lasting, foam-filled floats are made of virgin polystyrene resin containing UV inhibitors. They are able to attach anywhere to the dock frame using FLOE's exclusive track system. FLOE floats are also filled with steamed polystyrene foam for added strength and reduced water absorption and are backed by an industry leading full 15 year limited warranty!
---
---
Track Clip System
FLOE's patented track system allows you to add hinges, guide-poles and other accessories anywhere along the dock's outer frame. This allows you to create a custom system with standard components.
---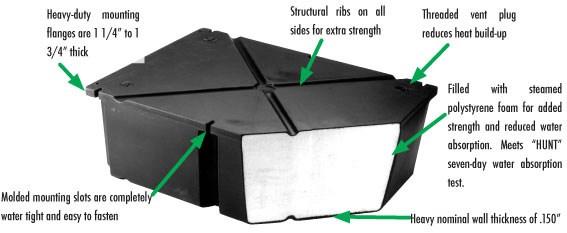 FLOE Vertical Boat Lifts
FLOE vertical boat lifts are the most technologically advanced boat lifts in the industry! From their patented Easy-Level legs, to their revolutionary Vertical Screw Drive (VSD) drive trains, FLOE vertical boat lifts are the easiest to own and longest lasting boat lift you will find!
Quality built for many years of enjoyment, all FLOE vertical boat lifts are made of custom engineered extruded aluminum with stainless steel and aluminum fasteners. Their bolt through design with modular components eliminate structural welds that can crack and fatigue over time! This unique design also allows the main frame beam to lower to 9.5″ from the ground, allowing a FLOE vertical lift to operate in shallower water depths than the competition!
Easy-Level Leveling System
With the patented Easy-Level leg system and a cordless drill, you can effortlessly install and level your boat lift in just minutes! Simply turn the nut inside the leg to adjust lift up or down. This allows for infinite adjustment and does not limit you to incremental holes. This extremely simple leveling system also comes in handy for seasonal adjustments as the water level changes throughout the year.
Easy-Level leveling legs are standard on every FLOE vertical boat lifts.  No need to purchase extra leveling systems that add cost and weight to your boat lift!
VSD Drive Train
FLOE vertical boat lifts can be equipped with either a manual, 12V DC electric winch, or VSD (vertical screw drive) drive train to raise and lower your boat. VSD is the most advanced drive train available in the market today. It offers long lasting, smooth, whisper quiet operation. Rated for 20,000 cycles at 10,000 lbs, super efficient 24V motor will lift a 3500lb boat 177 times on a single battery charge!
Canopies
Greater boat protection. With FLOE's extra deep fabric and framework, your canopy will not blow in or up and will keep your boat fully covered.
Upscale style with tailor-fit fabric for a refined look.
Fabric is held taut with FLOE's exclusive Quick-Clip™ fabric attachment system.
FLOE uses premium-grade solution dyed fabric. It has a more luxurious look and weighs 50% less than comparable vinyl fabrics for easy removal and installation.
SDP fabric is urethane coated, UV protected and has rip-resistant technology.
Many canopy lengths and widths are available to accommodate a variety of watercraft lengths.
Canopy frames adjust vertically and horizontally for perfect boat coverage.
Full length seams are heat sealed to eliminate leaks.
FLOE offers a complete line of vertical boat lifts and pontoon lifts with extra deep canopies ranging in capacities from 2000 lbs to 10,000 lbs and are backed by a 15 year limited warranty! FLOE boat lifts work in the greatest range of water depths and offer the most protection for your watercraft!